Summary Comments:
Emerging markets (EM) equities capped off 2017 with another standout quarter, trading up each month for a total quarterly gain of 7.44%. This performance once again trounced both developed markets (MSCI EAFE) and United States (S&P 500) stocks, which were up 4.27% and 6.64%, respectively. The United States benefited in particular in the last two months as investors incorporated the impacts of the tax reform bill on earnings. Within EM, Latam (-3.04%) underperformed Asia (+8.10%) and EEMEA (+11.28%). Commodities were up again during the quarter, after an already strong year to date performance. The S&P industrial metals index was up 9.52%, driven by strength in nickel, copper and steel. Brent crude rose 18.75% to close at $66.87, the highest level since mid- 2015. Oil strength was attributable to ongoing production discipline out of OPEC, as the cartel met in Vienna in November and agreed to extend the 1.2m bpd output cuts a second time, through the end of 2018, in order to  rid the market of excess supplies. Gold lagged equities materially, up 1.80% in the quarter. Key geopolitical  events in EM during the quarter included the Venezuelan debt default, the Saudi anti-corruption crackdown, the National Congress of the Communist Part of China and incremental announcements around Chinese financial market liberalization and deleveraging.
 The top country performers in the fourth quarter were South Africa, India and South Korea. In South Africa, the market and currency both rallied leading up to Cyril Ramaphosa's ANC election win in December, despite an S&P downgrade of the country's debt to junk. Indian equities rallied mostly on policy announcements, including an announced Rs2.11 trillion recapitalization of the state banking sector. Korea's surge was driven by hopes of better Chinese relations, combined with the resolution of issues around the Terminal High Altitude Area Defense (THAAD). The weakest countries in the quarter were Mexico, the UAE and Brazil. Mexico was weak on growing fears that it may be difficult to complete NAFTA re-negotiations in close to current form, with talks now stretching into 2018 and notably higher levels of uncertainty around resolution. The UAE market was weak due to ongoing weakness in consumer spending, while Brazil underperformed as it became increasingly evident to market participants that President Temer's efforts to pass substantive pension reform before next year's election would likely be unsuccessful.
 From a sector perspective, the top performers were Health Care, Consumer Discretionary and Materials. Conversely, Utilities, Telecommunications and Real Estate lagged during the quarter. As a whole, Technology performed in line with the market during Q4, following its notable appreciation earlier in 2017, although the internet sub-sector did outperform, led by Tencent and somewhat offset by a pullback in Alibaba and Baidu.
Performance:
In the fourth quarter of 2017, the Cullen Emerging Markets High Dividend UCITS (Share Class I2 Acc. USD) returned 5.7%, net of fees, versus 7.4% for the MSCI EM Index. Despite strong absolute performance during the fourth quarter of 2017, the fund modestly underperformed the EM benchmark. Given the benchmark's 7.4% quarterly rally, the relative performance is not unexpected. Historically, the fund has outperformed in flat and down markets, and participated meaningfully in strong up markets.


Portfolio Attribution: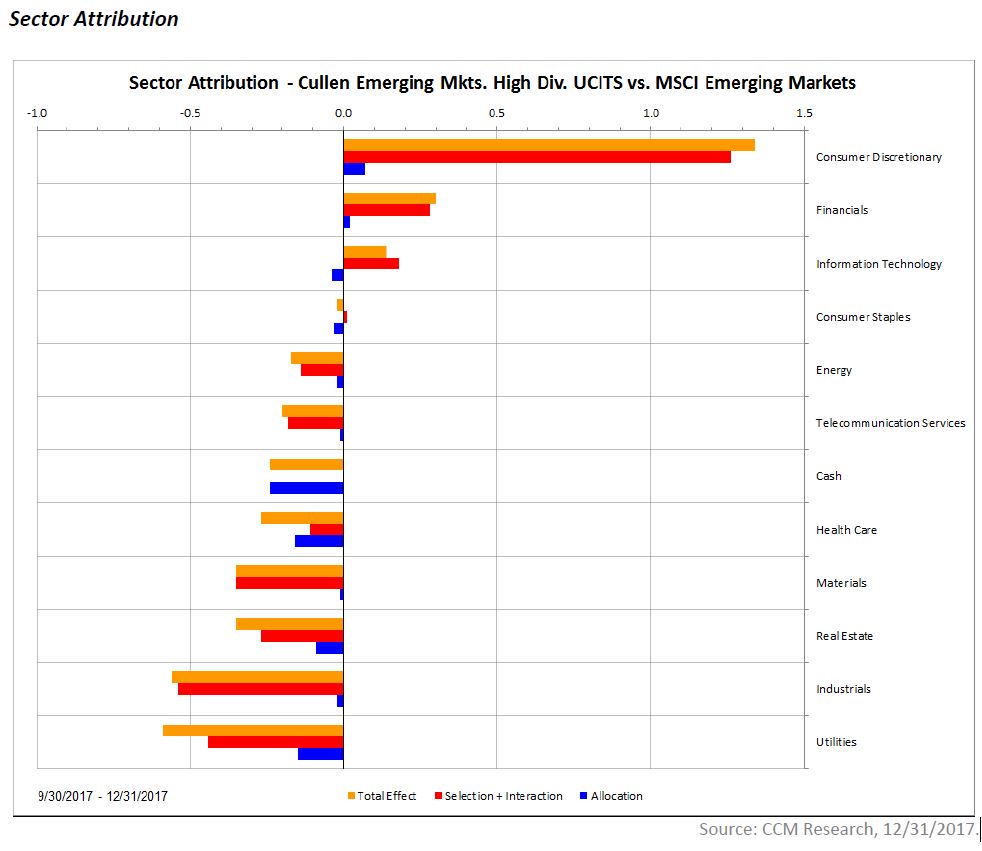 On a sector basis, the top contributors were Consumer Discretionary, Financials and Consumer Staples, while Industrials, Utilities and Telecommunications detracted.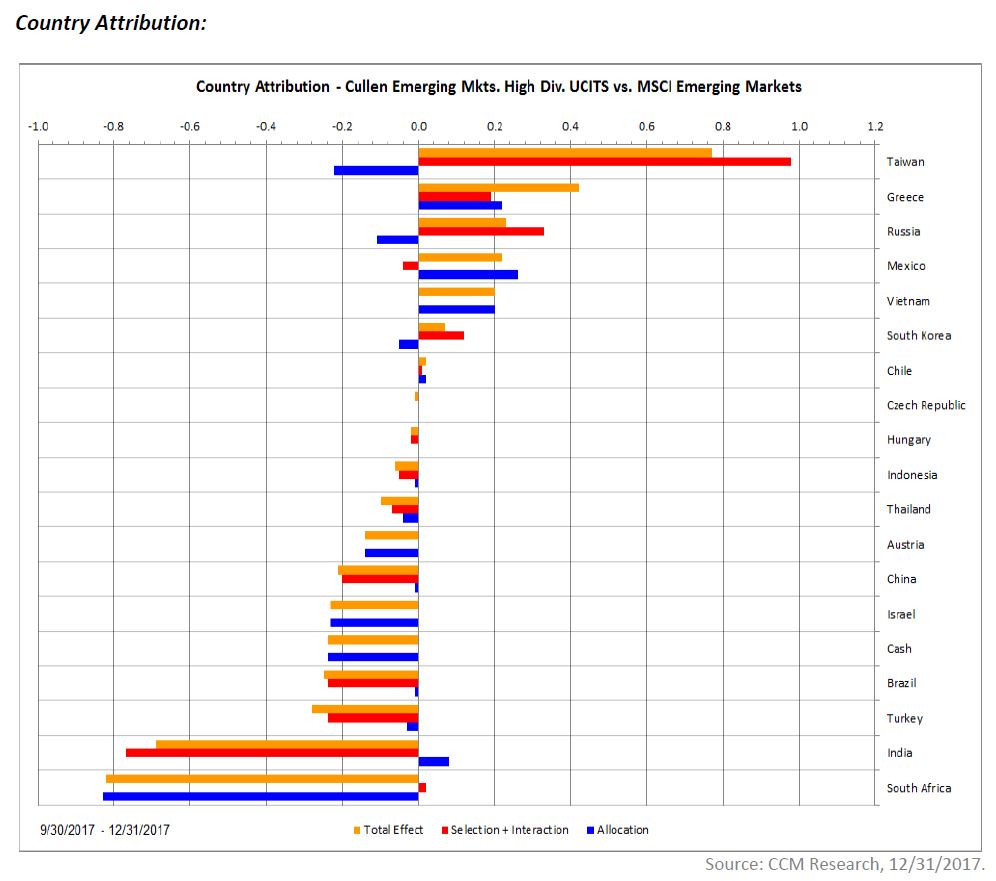 The top country contributor in the quarter was an overweight to Taiwan, where the fund's technology holdings were especially strong contributors to stock selection. The fund was also overweight Greece and Russia, where positioning contributed alongside stock selection. The weakest countries on an attribution basis were South Africa, India and Turkey. In South Africa, the market enthusiastically welcomed the election of the more investor- friendly ANC candidate, Cyril Ramaphosa in December, setting off a market and currency rally; the fund is underweight South Africa on longer-term fiscal and institutional concerns. Top contributors in the quarter were Win Semiconductors (Taiwan, Information Technology), Qingdao Haier (China/HK, Consumer Discretionary), OPAP (Greece, Consumer Discretionary), and Xinyi Glass (China/HK, Materials). Top detractors were Nine Dragons Paper (China/HK, Materials), IGG (Singapore, Technology), and AES Tiete Energia (Brazil, Utilities).
Market Outlook:

The fourth quarter of 2017 cemented another full year of the EM bull market which began in January 2016 and which has seen the asset class appreciate 76% in just under two years. Throughout the world, the factors at work earlier in 2017 continued in full force in the fourth quarter as investors priced in synchronized global growth, improving fiscal positions, the broadening rally in commodities prices, the Eurozone recovery, and the lengthening U.S. business cycle. The ability of China, under President Xi's leadership, to continue to effectively manage its fiscal situation while pursuing financial market liberalization and supply side reforms, also bodes well for the market into 2018. We consider these factors to be especially positive for emerging markets in 2018 since risks also seem low. For example, financial vulnerabilities in these markets are a particular bright point. Financial vulnerability, incorporating factors such as excessive credit growth, deteriorating current accounts, rising foreign debt, over-valued currencies, and weakening economic growth, is at a two-decade low according to BofA analysis. Across 17 markets analyzed, none of the markets has high vulnerability, currencies are fairly valued, and all markets except the Philippines and Korea have improved their current account positions since the summer 2013 "taper tantrum."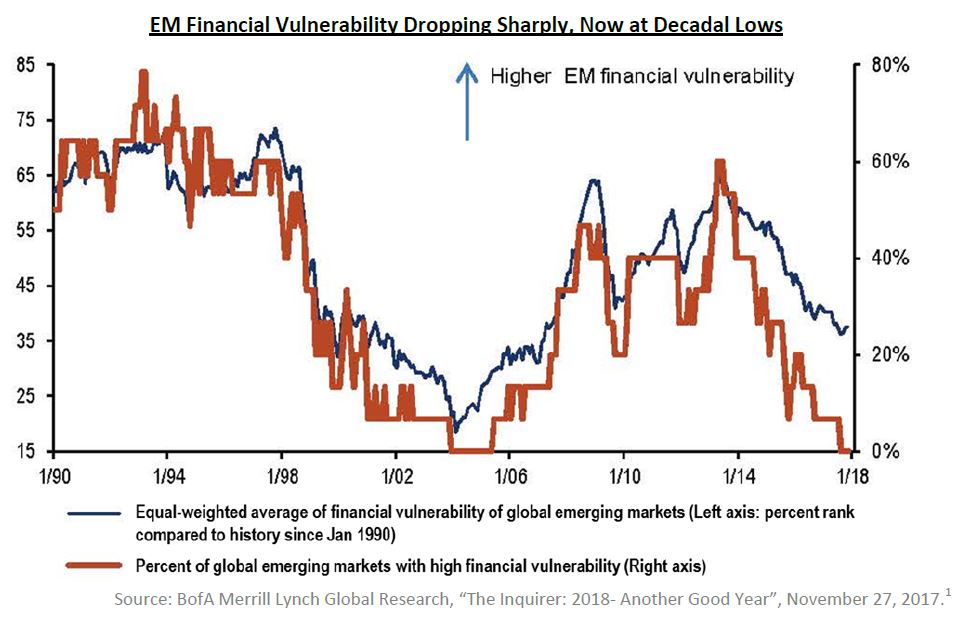 Despite the tailwinds to EM stock performance and the structural growth opportunities offered in these markets, the market remains at a wide discount when compared to valuations in developed markets. Global fund managers remain underweight the asset class, which in itself is underrepresented in world markets. EM nations make up 60% of the world's population and generate 35% of global GDP, but only constitute 13% of the equity benchmark, and the typical investor has only a 6-7% weighting. Although multiples have indeed expanded by more than two multiple points to reach their current level of 13.0x forward price to earnings, they remain well below pre-crisis levels, and we see valuations as undemanding in light of anticipated earnings growth. Likewise, net income margins have expanded from historical lows but still remain at depressed levels versus history. Consensus forecasts may also prove to be conservative. While current forecasts reflect a  prospective deceleration in EM earnings growth in 2018, profits have in fact been growing faster than revenues, indicative of the operating leverage which has caused margins to expand.
While we remain optimistic about the potential for strong absolute returns for EM managers, we admit that the recent bull market has been a frustrating period for value managers from a relative perspective and for our dividend-focused value strategy in particular. Not only has the rally been led by growth stocks, but it has also been particularly narrow. The top 20 stocks in the MSCI EM index are up 153%, versus a 76% gain for the overall index. Furthermore, just 20% of index constituents have contributed 80% of the gains over the period, with internet stocks leading the charge. Just three stocks, Tencent, Alibaba, and Baidu, together represent 31% of the MSCI EM Information Technology sector, and together contributed 39% of the sector's total returns since the EM rally began. All three of these names trade at lofty valuations and pay no meaningful dividends. We believe that fundamentals are the long-term drivers of equities performance, yet both the tech rally and fund flows to EM passive strategies have caused valuations of stocks with large benchmark weights to diverge from those of other EM stocks. Definitionally, these passive flows support the biggest index constituents the most, without regard for fundamentals. As the market moves forward, we will continue to adhere to our investment discipline, which focuses on valuation, strong balance sheets and earnings growth, in order to capitalize on pricing inefficiencies. Over the long-term, this fundamentals-driven value investing strategy should deliver meaningful outperformance to our investors relative to passive strategies, while taking on less risk, as has consistently been the case with our strategy since its inception.
We remain optimistic about our portfolio exposure, as it offers an excellent combination of value and earnings growth, accompanied by attractive dividend attributes. We retain our long-standing bullish view on Asian equities and have further increased exposure to the region. Recent investments include beneficiaries of supply-side policy reforms in China which may prove to be more long lasting than consensus expects and mark an important historical inflection point for China. If this is the case, a continuation of the positive impacts of these reforms may ensue and include a lower risk of credit related problems to the banking system, a more sustainable path for the environment, improving profitability due to industry consolidation, and the underpinning of commodity prices which is beneficial to many emerging markets. We have also made recent investments in attractively-valued China A-share stocks which are exposed to the domestic consumer or other reform catalysts, and which also have the potential to be global leaders in their industries. New purchases have primarily been funded by decreasing exposure to portfolio companies whose recent strong share price performance has left valuations and dividend yields less attractive. A positive aspect of our current exposure is that, through implementing our investment discipline, we have been able to maintain an attractive portfolio valuation and dividend yield despite the significant absolute returns the portfolio experienced last year. We continue to see emerging markets as being in a sweet spot overall and are encouraged by the strong start to the year that EM value stocks have experienced.
Thank you for your continued support and please do not hesitate to contact us with any questions.
Best regards,
Cullen Capital Management LLC