Summary Comments:
US equities surged in the 3rd quarter of 2018, with the S&P 500 advancing 7.7% and the Russell 1000 Value up 5.7%. It was the strongest quarterly return for the S&P 500 since the 4th quarter of 2013. Health Care was the best performing sector, up 14.5%. The sector rallied on news that the Trump administration is considering drug pricing policies that would not significantly alter the current drug supply chain or pharmaceutical industry profits. Information Technology (+12.4%) continued to outperform and the Industrials sector rebounded (+10.0%) after being the worst‐performing sector in the 2nd quarter; several leading transportation and capital goods firms posted strong earnings and the Purchasing Managers' Index rose in August to its highest level in 14 years. Energy (+0.6%) and Materials (+0.4%) were the laggards in the quarter. Energy stocks declined in July and August on concerns of rising supply and slowing global economic growth, and Materials stocks struggled partly on declining commodity prices.
Now a full decade from the financial crisis of 2008, the bull market that began in March 2009 is the longest‐ running bull market in history. Stocks' ongoing advance has been supported by a host of positive economic data, including GDP growth for the 2nd quarter at 4.2%, unemployment at 3.9%, and consumer confidence at its highest level in 18 years. Moreover, year‐over‐year EPS growth for the S&P 500 is expected to be over 20% for 2018, the highest level of growth since 2010. However, the bull market will have to contend with a number of increasing headwinds going into 2019. The Federal Reserve, which increased interest rates another quarter percentage point in September, is expected to raise rates again in December and continue its tightening policy for the foreseeable future. Furthermore, while the US, Mexico and Canada reached a last minute compromise to revamp NAFTA, the Trump administration remains in conflict with China over trade disputes. After imposing 10% tariffs on an additional $20B of Chinese imports, bringing the total to $250B, China retaliated with tariffs on an additional $6 B of US imports on top of $50B instituted earlier in the year. The trade war has raised concerns from business leaders about the potential disruption of supply chains and increases in materials costs.
Performance:
The Cullen North American High Dividend fund (Share Class I2 Acc. USD) gained +6.7% in the quarter. The S&P 500 returned 7.7% and the Russell 1000 Value was up 5.7% in the quarter.

In the quarter, Growth further outperformed Value with the Russell 1000 Growth Index +9.2% and the Russell 1000 Value Index +5.7%, a 347 basis point spread. Year‐to‐date, the Growth over Value spread has widened to 1,317 basis points driven by the dominance of Technology and Consumer Discretionary. International stocks, despite compelling valuations, lagged on concerns of slowing growth, escalating US trade tensions and the stronger US dollar.

With US 10‐year yields breaching 3% for the first time since May, the higher yielding dividend sectors of the market – REITs, Utilities, Staples and Telecommunications (RUST) – delivered mixed performance in the quarter as Telecommunications and Consumer Staples rallied while Real Estate and Utilities were flat. Year‐to‐date, the performance of the two highest‐yielding quintiles of the market (dividend yield > 2.2%) has lagged the broader market. Sentiment towards dividend stocks remains relatively bearish, reflected in the below‐market valuation of the highest‐yielding quintiles.


The investment discipline core to the High Dividend Value Equity strategy focuses on the long‐term factors that drive superior risk‐adjusted returns – investments in high quality companies with attractive relative valuations, sustainable and growing dividends and catalysts to drive earnings growth and improving sentiment. Committing to this process over market cycles has rewarded clients with solid long‐term gains and down market protection. At quarter‐end:

Low P/E Valuation Discipline: The fund's P/E is 15.1x forward earnings versus 18.7x for the S&P 500 and 17.6x for the Russell 1000 Value (Q3).

High Absolute Dividend Yield: for the Russell 1000 Value (Q3). The fund's dividend yield is 3.4% versus 2.1% for the S&P 500 and 2.4%
Strong Dividend Growth: In Q3, 6 additional portfolio companies raised their dividends with an average increase of 17.8%. Year‐to‐date, 30 out of 38 portfolio companies have raised their dividends with an average increase of +10.3%.
Portfolio Attribution: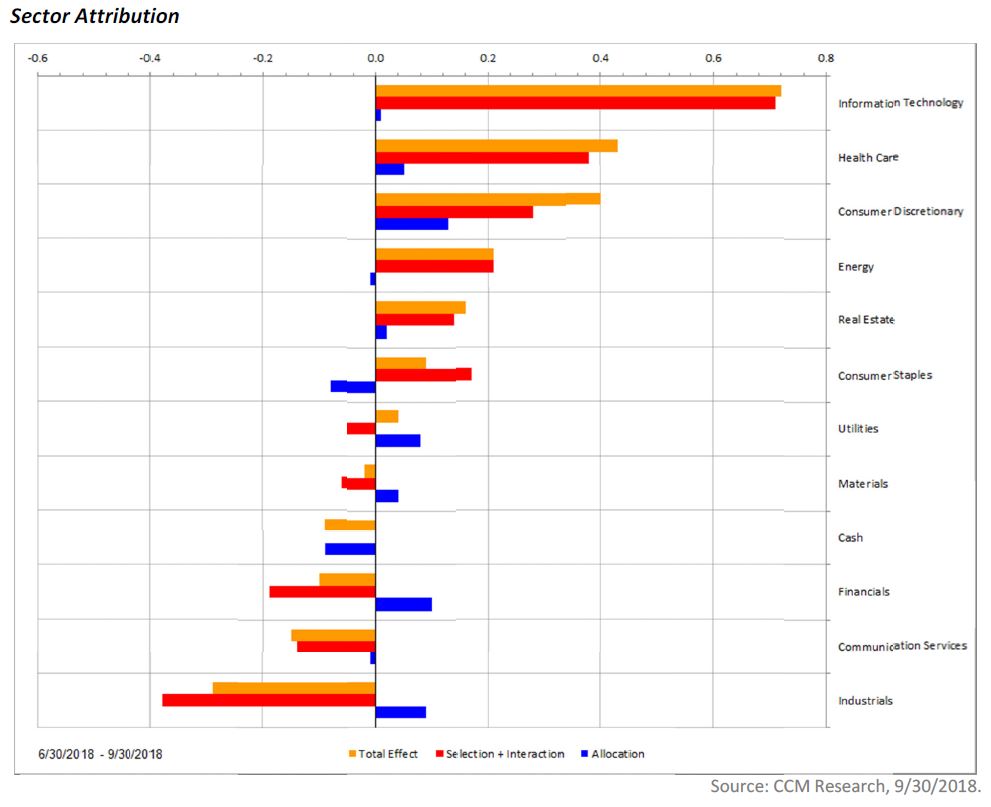 The following attribution analysis of the Cullen North American High Dividend Value Equity fund utilizes the Russell 1000 Value as the benchmark of comparison for the third quarter of 2018.

The  Information Technology sector was the largest contributor to relative performance for the quarter driven by strong stock performance combined with an overweight allocation in the portfolio. The sector continued to outperform the broader market, making it the best‐performing sector year to date. Corning (+29.0%) reported particularly strong 2nd quarter earnings and management raised its sales guidance for the remainder of the year, largely on the strength of its fast‐growing fiber optics division. Microsoft (+16.4%) continued its impressive performance as revenues for its cloud computing platform, Azure, grew 85% in the quarter and an improvement in revenue and cash flow from its 2016 acquisition of LinkedIn added to the positive sentiment. Cisco (+13.9%), which, like Microsoft, is transitioning to a long‐term subscription based model, nearly doubled its subscriber base for its Catalyst 9000 series of network switches; in addition, it saw double‐digit revenue growth in the quarter for its software applications and security businesses. Strong stock performance in the Health Care sector aided returns as Eli Lilly (+26.5%), Pfizer (+22.5%) and Merck (+17.7%) all outperformed, partly on news that the Trump Administration is considering policies to reduce rebates for pharmacy benefit managers, which could potentially benefit pharmaceutical firms. Our underweight allocation combined with strong stock performance in the Consumer Discretionary sector aided relative performance in the quarter. The sector paused in the quarter after posting outsized returns in the first half of the year. However, Genuine Parts (+9.1%) advanced as its Automotive business continues to benefit from the increasing age of automobiles and its Industrial segment prospers along with robust manufacturing growth in the US. The strategy benefitted from our underweight allocation and strong stock performance in the Energy sector. Oil prices declined in the first half of the quarter before recovering in September, but remained flat overall. ConocoPhillips (+11.6%) continues to see increasing free cash flow from robust oil and gas production and an improved cost structure. Finally, our underweight allocation and strong stock performance in the Real Estate sector aided performance as both Welltower (+4.0%) and HCP (+3.4%) recovered from a sell‐off in the face of rising interest rates earlier in the year.
Stock performance in the Industrials sector detracted from relative performance. While Johnson Controls (+5.4%) posted a positive return in the quarter, it trailed the overall Industrials sector. The company saw improving organic growth in both its Buildings and Power Solutions segments, with growth in its hybrid start/stop automotive battery business of 30%. Siemens (‐3.1%) was impacted by continued struggles in the power turbine industry, but the conglomerate is reducing its number of operating segments and undergoing a restructuring to focus on high‐return, growth businesses. Our underweight allocation and weak stock performance within the newly‐formed Communication Services sector detracted from relative performance, as media companies formerly in the Consumer Discretionary sector rallied in the quarter, and BCE (+1.5%) lagged despite recording healthy growth in its wireless business. Our stock performance within the Materials sector detracted from relative performance, as DowDuPont (‐1.9%) prepares for its split in the first half of 2019 into three companies focused on materials sciences, agriculture, and specialty chemicals.
Portfolio Changes:
Purchases/Additions:
There were no new investments in the quarter. The positions in Philip Morris International (PM), AT&T (T), Exxon Mobil (XOM), Walgreens Boots Alliance (WBA), Novartis (NVS) and Johnson Controls (JCI) were raised in the strategy.
Sales/Trims:
The position in AstraZeneca (AZN) was sold in the quarter. AstraZeneca has performed well over the past 18 months as three major oncology pipeline drugs approvals with differentiated trial results have bolstered the sales outlook for the company. However, at 22x 2018 earnings, the stock reflects improving top‐line and pipeline prospects while earnings growth will be restrained by further patent expirations. While there will be several oncology pipeline trial results released in the next year, the competitive landscape in oncology has intensified and high drug costs in the space has drawn scrutiny from the US government and commercial payers. In addition, the company's increasing reliance on externalization – the monetization of specific pipeline drugs – has boosted earnings over the past several years but those deals have stripped the company of the full upside of success. The prospect of a takeout of the company appears to be less likely as US tax reform removed the need for tax inversions and Pfizer's past attempt to acquire AstraZeneca drew heavy scrutiny from UK authorities and UK shareholders. Lastly, Brexit poses an additional risk for AstraZeneca as it is a UK‐domiciled company subject to the direct shockwaves of a potential hard Brexit outcome, namely weakness in the UK Pound and loss of market access. In terms of the dividend, AstraZeneca's gross yield is ~3.4%; however, the company appears unlikely to increase it given its high payout ratio and significant investment needs.
The positions in Altria (MO), Cisco Systems (CSCO), JP Morgan Chase (JPM) and NextEra Energy (NEE) were reduced in the quarter.
Dividend Summary:

In the third quarter of 2018, 6 out of 38 portfolio companies raised their dividend payments with an average increase of +17.8%:
Altria (MO) raised its dividend payment by +14.3%, marking its second increase for the year. In March 2018, Altria raised its dividend by +8.2% from the previous level.
Diageo (DEO) raised its dividend payment by +5.0%
JP Morgan Chase (JPM) raised its dividend payment by +42.9%
Microsoft (MSFT) raised its dividend payment by +9.5%
SunTrust Bank (STI) raised its dividend payment by +25.0%
Wells Fargo (WFC) raised its dividend payment by +10.3%
Year‐to‐date, 30 out of 38 portfolio companies have raised their dividends with an average increase of +10.3%.
Market Outlook:
US equities have surged higher on strong corporate earnings growth, record levels of share buybacks and a resurgence of US economic growth in the context of slowing international growth. The stimulative effects of fiscal easing, namely US corporate tax reform and higher budget deficits, have lifted current year growth and served to counter the effects of monetary tightening. The divergent sentiment between US and international markets, further fueled by elevated trade tensions and tariffs, has led to a stronger dollar and significant flows into the US. It remains to be seen whether the extreme performance differential between US and global markets will persist, similar to the Growth versus Value disparity that is now approaching a record length.
The bull market leadership has been led by the Technology sector; at current levels, the market capitalization of the five largest S&P 500 stocks (all technology stocks: Amazon, Apple, Facebook, Google, and Microsoft) have a combined market capitalization larger than that of the smallest 281 members of the S&P 500. In 2018, six stocks (Amazon, Apple, Facebook, Google, Microsoft, and Netflix) have generated 50% of S&P 500 returns. Encouragingly, the recent broadening of the US equity market with leadership from the Health Care and Industrials sectors brings fresh support to an otherwise narrow market. The Technology sector has thrived, in part benefitting from relatively low levels of regulation and antitrust oversight; the Technology and E‐commerce sector has ~27K regulations, among the least‐regulated sectors, versus Manufacturing at ~215K and Finance at ~128K regulations1. However, Technology faces increasing risks from federal regulation as US regulatory agencies and legislative bodies, following in the steps of European Union, are now examining technology firms' anti‐ competitive behaviors, consumer privacy lapses, and allegations of bias behavior. While it is difficult to predict whether federal action will be taken, increased scrutiny is likely to rein in the overt competitive ambitions of these targeted companies.
Meanwhile, the growth of passive investments through ETFs, indexation, swaps and quantitative funds over the past decade have transformed the equity market structure and trading volumes. Through May 2018, total ETF assets under management (AUM) reached $5.0 trillion globally, up from $0.8 trillion in 2008. JPM Equity Strategy estimates that Indexed funds now account for up to 45% of equity AUM globally, while Quant Funds comprise an additional 15‐20% of equity AUM. It is estimated that active single‐name trading accounts for only ~10% of trading volume while 90% of trading volume comes from Quant, Index, ETFs and Options2. The dominance of these products pose a risk as herd behavior and rules-based investing could potentially lead to liquidity disruptions and steep market declines. 
Since March 2009, the S&P 500 has delivered a nearly 19% CAGR (dividends reinvested), significantly above the long‐term  historical  rate.  With  monetary  policy  turning  from  a  tailwind  to  a  headwind  and  overall  market valuations at elevated levels, investors should increasingly focus on risk and preserving the gains made in this extraordinary bull market. Quality, valuation discipline and dividends have historically provided the strongest risk‐adjusted returns in part due to superior downside protection. Over the long‐term, high dividend equities have protected capital by offering the lowest probability of loss. This safety net combined with the compounding effect of low Price/Earnings and a Dividend Growth discipline are the core drivers in the strategy's ability to generate strong long‐term risk‐adjusted returns.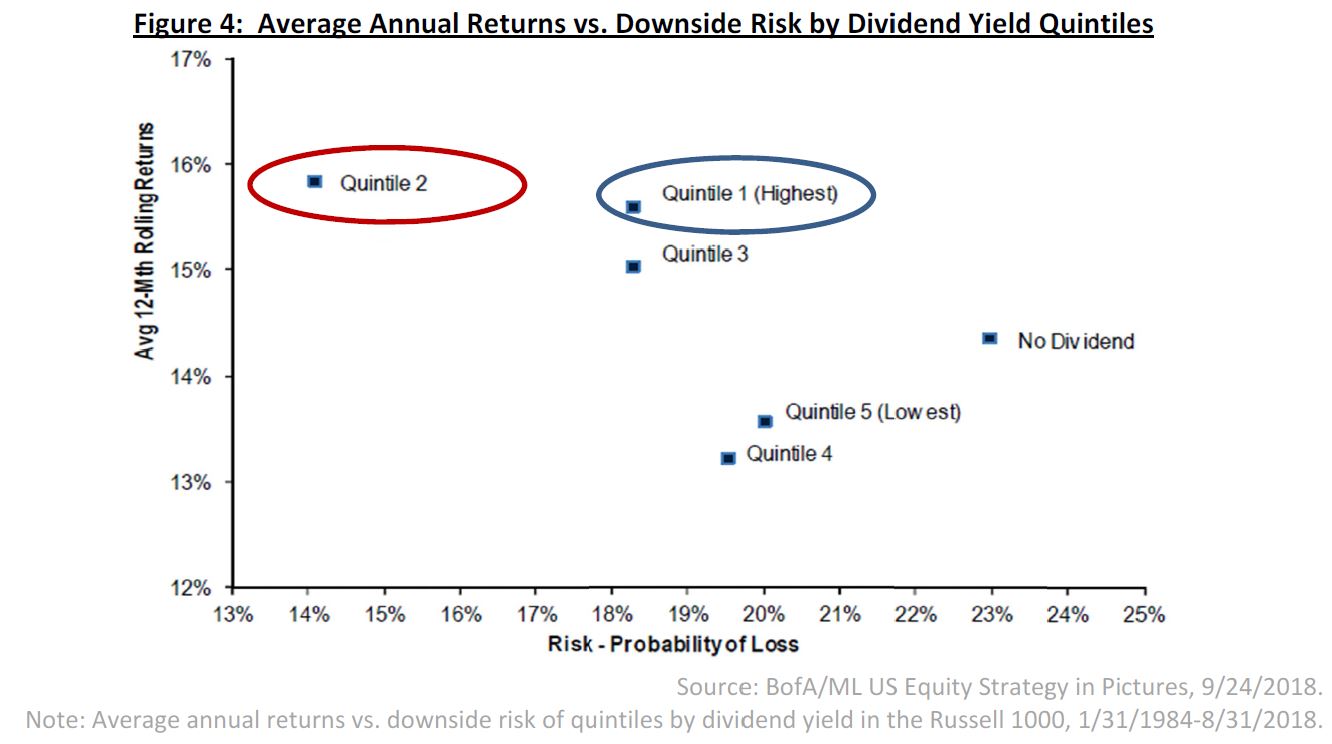 Thank you for your continued support and please do not hesitate to contact us with any questions.

Best regards,
Cullen Capital Management LLC