Market Update:

On March 11th, the World Health Organization declared Covid-19 a pandemic, spanning well over 100 countries and disrupting daily life for people around the world. The impact on worldwide financial markets has been dramatic, with the S&P 500 entering bear market territory and declining roughly 30% from its mid-February all-time high and major international indices falling as much or even further. After what many observers thought was an initial slow reaction by the federal government, on March 13th the Trump administration declared the pandemic a national emergency, immediately freeing up $50B in federal resources in assistance to states and localities to combat the spread of the virus. The Federal Reserve, after cutting interest rates by 50 basis points on March 3rd, cut rates by another 100 basis points to effectively 0% on March 15th, while also announcing another round of Quantitative Easing.
The rapid deterioration of events – the spread of Covid-19, subsequent collapse in oil markets and global quarantine / isolation measures – increasingly pressures global economies into regional recessions. The risk of a continual negative feedback loop continues to drive equities lower with heightened risk for corporations with weak balance sheets and cash flow generation. The speed of the sell-off has been unprecedented; the current sell-off is now the fastest bear market in history at 21 days. The US equity market rout is approximately in-line with the median market sell-off that precedes an upcoming recession since 1928 and currently implies a 50-75% probability of recession in the next 12 months. While a US recession may be on the horizon, we believe a second half 2020 recovery is the likely scenario and therefore a buying opportunity for long-term investors. In eight of the last 11 bear markets over the last 100 years, the S&P has been higher 24 months later.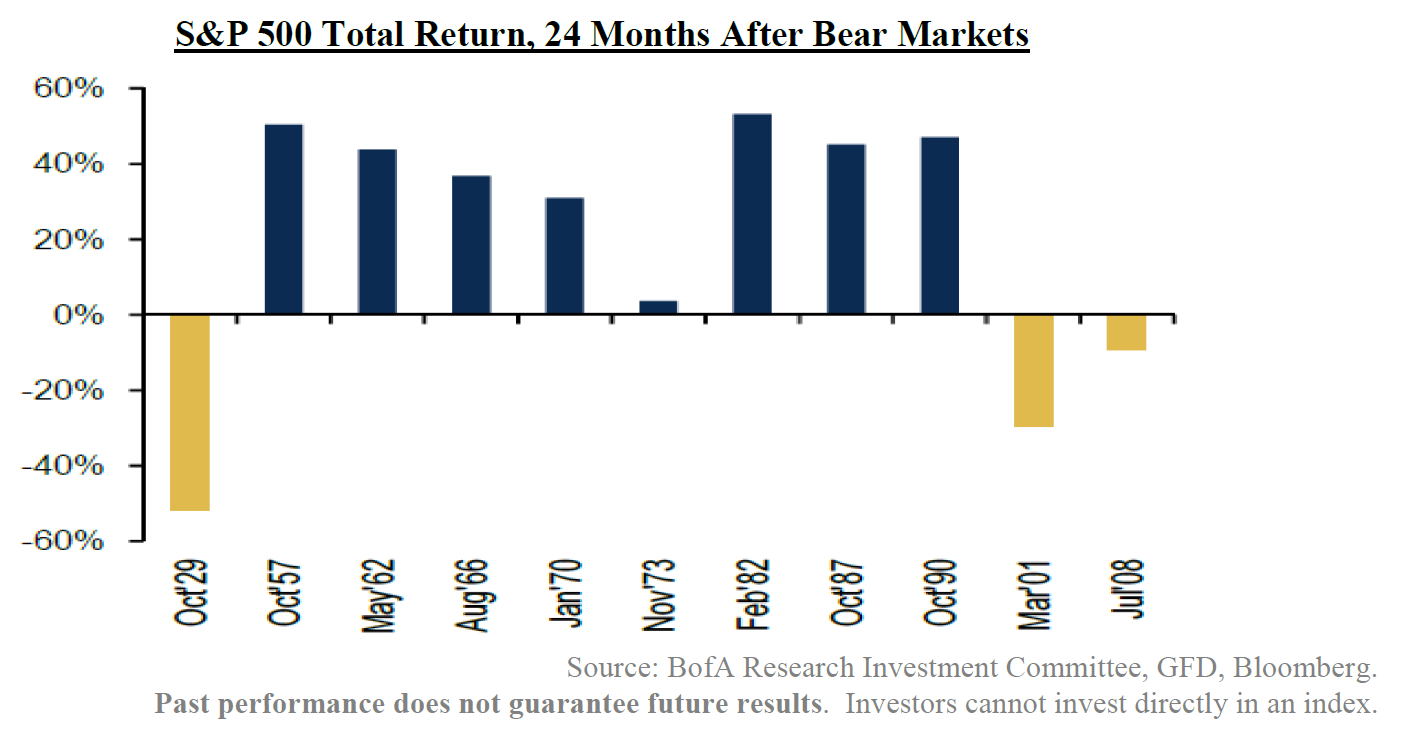 The equity market sell-off has been driven by extreme de-risking and de-leveraging, with few safe havens even in typically defensive sectors of the market. The unprecedented spike in volatility has led to indiscriminate selling as systematic strategies look to raise cash, as such sector correlations are now running at all-time highs. The rise of passive and computer-driven strategies have uncovered significant market frailties, highlighting the risks of computer versus human traders. Selling from systematic and risk parity strategies, levered ETFs, inverse exchange and other macro strategies in an environment of low liquidity lead to price declines which trigger further selling. This extreme level of panic selling has driven even typically defensive stocks into bear market territory.
Portfolio Update:
The High Dividend Value Equity portfolio has not been immune to the market sell-off but has outperformed the Russell 1000 Value since the onset of market sell-off on February 20th. The valuation of the strategy is extremely attractive, and despite earnings estimates being revised lower, is currently trading at 12.0x 2020 earnings with a 4.5% dividend yield, levels not seen for several years. The companies in the portfolio all have investment grade rated balance sheets. Dividend payments for our portfolio companies are highly sustainable with an average 50% payout ratio and flexibility to maintain those dividends through use of existing cash balances, reducing/eliminating share repurchases, implementing cost reduction programs and utilization of the balance sheet. In 6 of the last 8 recessions in the US, dividends were flat or higher on the S&P 500 (Source: Morgan Stanley Research); we would expect dividends to be maintained and grow in the portfolio, especially if the economy recovers in the back half of 2020. While there is some concern on the dividend levels across the Energy complex, Chevron (CVX), ConocoPhillips (COP) and Exxon Mobil (XOM) have all indicated a priority to maintain their dividends and have the flexibility to reduce capital expenditures and share buybacks and use their balance sheet capacity to meet their dividend commitments.
We continually look for opportunities to own high quality companies trading at attractive valuations and assess market conditions to better position the portfolio in response to the changing market environment. In the first quarter, our weighting in Financials has been reduced to reflect the more challenging prospects for the banks to generate earnings growth in a less attractive interest-rate environment. Accordingly, the position in the HSBC (HSBC) was sold from the portfolio and the positions in Bank of America (BAC) and Truist Financial (TFC) were reduced. A position in Citigroup (C) was purchased as the global bank remains a self-help story with long-term global growth prospects. Our weighting in the Energy sector was also reduced with the full sale of Royal Dutch Shell (RDS/B), which we began to pare back in during the third quarter of 2019. In Healthcare, we have added to our exposure by increasing the position in Novartis (NVS), one of the most diversified pharmaceutical companies with among the best prospects for earnings growth over the next 3-5 years. In Industrials, we have added a new position in the Aerospace/Defense contractor General Dynamics (GD) at a valuation level of 12.5x earnings and with a dividend yield of 2.5%. General Dynamics is exposed to a number of highly prioritized defense programs and has a near monopoly on the country's strategic submarine programs including the Virginia, Ohio, and the new Columbia class submarines. Lastly, we have added to our Consumer Discretionary holdings with a new position in the home improvement giant Lowe's (LOW). Lowe's has been one of the few retailers whose business model has maintained a strong structural moat and in the midst of significant operational improvement with a new management team.
Thank you for your continued support. Feel free to get in touch if you have any questions.